Prefabricated Engineered Systems
Fire Pump Systems in a Box
Our ETL-Listed package systems are designed and fabricated to save contractors and owners time and money. We design each system for your specific project, rather than force you to design your pump room around someone else's system configuration. However, we use our decades of package system designing experience to aid you in creating the best design for the size, shape, and piping configuration of your fire pump room. You don't have to start from scratch. In fact, you don't have to get involved in the design process at all. Our proprietary package design interview process allows us to collect critical pump room or building information from you. That information allows our licensed designers to create a design for you. We make the package system design process as easy as our packages themselves make the installation process for your field teams.
All our engineered systems have complete, interconnected wiring when delivered to your jobs. And our preconstruction of the packages eliminates costly, and often complex, installation problems. Your field teams can focus on the building's overall fire protection system, and not worry about the codes and complexities relating to the fire pump system.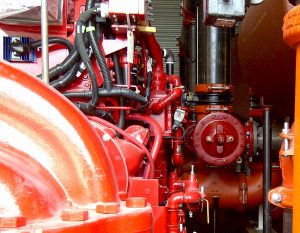 Skid Packages
For Installation in the Building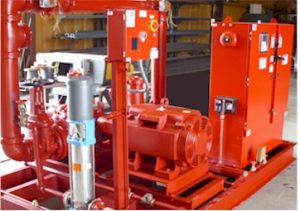 Our skid packages protect facilities of all types throughout the U.S., from retail establishments on the piers of San Francisco Bay to university and industrial buildings in New York. The lead listing agency for NFPA 20 packaged systems even chose one of our professionally designed skids for one of its new facilities in Texas.
Our acclaimed fire pump skids can be designed around horizontal, in-line, end suction or vertical turbine pumps. And the controllers can be any start type, with or without automatic transfer switches. Whatever your needs, we can custom-design a prefabricated fire pump skid to meet both your system requirements and your construction schedule.
Skids can be designed to be as compact as you need them.
Pump Houses
Self-Contained Buildings
No room in your building for your fire pump system? One of our prefabricated engineered pump houses is the solution. You or the GC pours the slab foundation, and we do the rest. Whether you need a house with a simple one-pump electric system, or one with four large diesel systems, tank fill valves and water filtration systems, we've done it. And we provide the engineering, logistical, installation and commissioning support required throughout the process. We make it as painless as possible for you to coordinate with GCs, owners, other trades and AHJs until the job is finished.